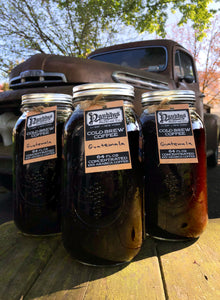 64 oz Cold Brew Coffee Concentrate - Guatemala
64 oz of our concentrated Guatemalan Cold Brewed Coffee.
This is a clean, bright coffee with with a grapefruit acidity, full body, and natural sweetness. Immersion brewed for 24 hours, we recommend a 2:1 ratio of coffee to water or plant milk.
The cold brew now comes in a clear glass 64 oz growler.
Sorry, but we cannot ship growlers currently, local delivery only. 
FREE LOCAL DELIVERY ON LONG ISLAND, please put your address into the Notes. As it takes 24 hours to brew, please allow us a couple of days to coordinate your delivery. We are based in Huntington, if you are more than 18 miles away please email hugo@nautilusroasting.com to see if we can accommodate a delivery.